Hello Darlings!
I love being a blogger. Something that started out as just a hobby after I received a DSLR for Christmas in 2012 has turned into (as cheesy as it sounds) a way of life. I think the best part about blogging is the community. I love hearing from readers (like you!) about what you like, what you don't like, things you want to see more of, and following along with your lives! I have met some amazing people both online and off, and had the chance to experience life in some pretty great places (::cough:: Blend Retreat ::cough::).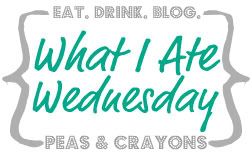 The community is incredibly supportive. Whether its heading up to Boulder this Friday to have dinner with Madelyn from
Mind Body Musings
, getting hugs from Heather from
FitAspire
at
Yoga on the Rocks
, or reading a super sweet comment on
Instagram
from Melissa (word of warning: don't head to her blog,
Treats with a Twist
, while hungry. You will want EVERYTHING) someone in the blogging community is always there when you need to be lifted up!
I'm not going to lie, the blogger 'swag' is also nice, and that's where this whole post came about. I was looking back on what I've been munching on this past week and realized it was comprised of quite a bit of 'swag!'
For a quick breakfast I've been having my go to hot water with lemon and apple cider vinegar, with a grapefruit and a shaker of Skoop! I've been loving
Skoop
's Sweet Greens and am so excited that
Maddie
introduced me. Also, I am not a coffee drinker but every once in a while I do enjoy caffeine, so I've been having a jar of my
Homemade Vegan Iced Chai Latte
made with cardamom pods from
Jiva Organics
.
I can never have enough chicken salad, so after I found an amazing deal on organic chicken breasts I bought a ton and made a huge batch of my
Healthy Chicken Salad
!
I'm really bad about going a day without snacking on something crunchy. Sometimes its popcorn (super easy with an air popper) but lately it has been all of the varieties of
Snikiddy
's Eat Your Vegetables chips! The gluten free, non GMO chips have a wonderful crunch and are made from vegetables- black beans, potatoes, rice, carrots, kale, sweet potato, mushrooms, the list goes on. I really enjoyed all of the flavors I was sent to try out but Sea Salt and Lime was my favorite. Yum.
It has been hotter than hell (excuse my French) here in Denver so I have really not wanted to cook lately. So I've gone with either my
Tangy Cucumber Dill Salad
, or my
Vegan Avocado Soup
made with Silk Milk (another blogger perk!)
And last, but very not least
Artic Zero
's frozen desserts make my heart sing. Seriously an ENTIRE pint is 150 calories, and they are delicious to boot! Sea Salt Caramel is my favorite with the Orange Cream in close second. Sweetened with monk fruit, they are perfect for those of us with a crazy sweet tooth that don't want to (accidentally on purpose) eat an entire pint of cookie dough ice cream and have our stomachs hate us for it afterward!
I like to add a bit more pop to the pint and toss some chocolate chips to swirl around as well. Completely delicious and guilt free!
Whether you're a reader or a blogger, what is your favorite aspect of the blogging community? Let me know in the comments below!
Some items contained in this post were provided to me free of charge for review purposes. All opinions are my own.