Hello Darlings!
You may have seen
this post
where I accepted the
Fiber Choice
30 Day Get Picky Challenge of adding a fiber supplement into daily routine. Now that I'm nearing the end of the thirty days of the challenge I'd love to share my experience thus far, and how better to do that to show what I've been eating?!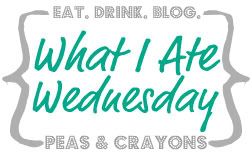 A little recap: before the challenge I hadn't been taking a fiber supplement, mostly because they made me nervous. I'm quite picky about textures when it comes to food- to the point that when I make hummus I take the extra time to skin the chickpeas! So when "fiber" came to mind in a form outside of the veggies I usually get all my fiber come from I thought, "uck." However, I chose the Fiber Choice Fruity Bites which essentially are fiber-filled gummy bears- seriously, how could you go wrong with that? They are delicious, and don't feel like they are chock-full of fiber win-win in my book!
If you've been following me on
Instagram
lately, you may have noticed that my go-to breakfast meal has been yogurt topped with granola, berries, and nuts. What you haven't seen is my cup of hot lemon water with a splash of apple cider vinegar and honey, my vitamins, and a Fiber Choice Fruity Bite! I love the sweet treat that helps to cut a bit of the lemon water's bite! And with the Fruity Bites being made of all natural Inulin fiber that is naturally found in fruits and vegetables, my gummy treat is both good for me and totally appropriate for breakfast!
For lunch I've been bad lately, and have been grazing in between classes while working on other projects. I've been loving Terra Chips' Exotic Harvest (kabocha, purple potatoes, and carrots), Olea Estates imported olives, and all the varieties of gorgeous cherry tomatoes that are in season! With lunch I also pop a gummy!
You might have seen that I have been meal planning lately (with my
Sautéed Vegetable Quinoa
and poached chicken) which is a great option when I'm in a rush- pop some of the quinoa out of the freezer, add an already poached chicken breast and heat up in the toaster oven: voila, a delicious and healthy dinner!
Now, the day I decided to take pictures I totally blanked on grabbing a
Fiber Choice
gummy with dinner, so I had one with dessert instead! These summer evenings are so warm that my go-to treat is some Artic Zero Salted Caramel, which I topped with chocolate chips and my third gummy of the day! Who says gummies have to be chock full of sugar and only on ice cream sundaes?
I've noticed as I've been following the Get Picky challenge that my belly has been feeling wonderful inside and that with the extra fiber I've added to my diet visibly flatter! I have about a week left in my 30 day challenge and can't wait to share my final result!
I was compensated with product, payment or both in order to facilitate this post. All opinions are my own.