Hello Darlings!
I love holidays in general. Decorating the house, making plans, fun drinks, fun menus! But for some reason I don't get incredibly excited about Saint Patrick's Day anymore (in college it was another story!). However, I did celebrate the simultaneous Meatless Monday and Irish holiday with a very green vegetarian day of foods.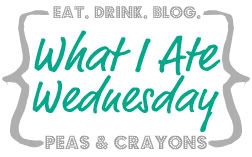 Now, I know, I'm a bit boring when it comes to breakfast, but when you're on a schedule making the same delicious breakfast is quick and nutritious. Fluff a few eggs with almond milk, a bit of salt, pepper, and basil then toss in lots of spinach, throw some fruit on the plate and you're good to go. And it is green- no being pinched for this girl!
For lunch, I was on the go running from appointment to appointment (super exciting- yay yoga career starting to take off!) so I needed something quick for when I popped home to let miss Tinkerbelle out! I packed a bowl full of spinach, veggies, olive oil, goat cheese, and balsamic and called it a day! I added some sweetness with blackberries and raspberries!
I had a KIND bar for a snack on the go- no getting hangry (hungry+angry) for this girl!
Dinner was my favorite! If you haven't already popped over to my Meatless Monday recipe:
Spinach Pasta Dough
this week you should! Homemade pasta is super easy to make and delicious! This very green meal is wonderful even without sauce and super filling, as I love to keep my pasta noodles thick!
For dessert I had a package (yep, the whole thing, whoops) of Newman's Own Organic Dark Chocolate Peppermint Cups. They are so delicious and GREEN, even for dessert!
I'm realizing now that I may be a bit obsessed with spinach as I had it for breakfast lunch and dinner, but at least it is good for me! Do you have a go-to green? Let me know in the comments below!