Hello Darlings!
When it comes to food I want things to taste good, look great, (usually) be healthy, and be fun to eat! With being super busy with my new business on top of my regular schedule of activities :: said like an event announcer :: I have been trying to save time in any way possible. One timesaving idea was to check out one of the cook-your-own-meals subscription boxes, however I had always been a bit wary because of the incredible amount of waste that their packaging produced.
Photo Courtesy of SunBasket Facebook
Enter
SunBasket
. When SunBasket reached out, the first thing I spotted in their email was their commitment to eco-friendly packing materials. From a packing slip to return the ice packs and packaging for sanitation, reuse, and recycling for free, to using even recyclable plastic bags my eco-objections were put to rest and I decided that I'd give the basket a try. And oh my goodness, I am SO glad that I did!
Each week's basket arrives on a Wednesday after you select your meals for the week from SunBasket's online
menu
. I chose the Pine Nut and Arugula Pasta with Cherry Tomatoes and Fresh Mozzarella, Seared Salmon and Snap Peas with Japanese Cucumber Slaw and Mint Oil, and Tzatziki-Topped Turkey Meatballs with Arugula Salad. Each recipe is incredibly delicious, developed by chefs, sourced from local (in CA) farms, and certified by nutritionists.
With whole ingredients from organic farms, you know you are getting a great meal with step-by-step instructions. Each dish comes with a recipe card that explains what to do with the pre-measured ingredients. A personal favorite of mine was that it tells you what to do when, i.e. prep these veggies while this is cooking so you have delicious meals ready to eat in 30 minutes from start to finish. Talk about saving time!
Honestly, I couldn't have been happier with SunBasket. Delicious, fast organic meals, paired with 100% recyclable packaging, and new ingredients (who knew I would love the spice Sumac?!) to try makes for a very happy Kait.
And, because I always love to give you the hook-up, SunBasket
is giving away one week (3 meals for 2 people) of deliciousness to a reader! FYI, because they are such a new company they only deliver to the following states: California, Arizona, Oregon, Washington, Colorado, Utah, Idaho, and Nevada. Live in one of those states? Enter to win below!!
a Rafflecopter giveaway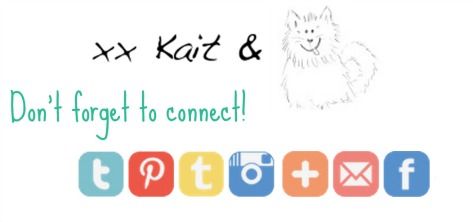 I was compensated with product, payment or both in order to facilitate this post.
Some links may be affiliate links.
All opinions are my own.