Hello Darlings!
I love that the winter holiday season is all about getting together with greats friends and family, having fun, and being thankful for our loved ones! Last Saturday was a super fun day- I headed to the Park Meadows mall for an event with Chex playing around with recipes for Chex Mix Party mixes, then headed home to get ready for my fellow yoga teacher training girls to come over for the night!
When I have a big day ahead of me, I am all about a healthy breakfast! I love
MixMyOwn.com
, an awesome small business granola shop (
review here
) and I mixed my current custom mix of granola (that has bee pollen in it-so cool!) with persimmon and Greek yogurt!
Can you tell the darlings at Mix My Own like Tinkerbelle?
As for lunch, I was bad. I may have been filled up on delicious Chex mix and then, I was a super busy bee and forgot to snap a picture of my grilled chicken salad! (How cute is this Chex Mix 'Cereal Bowl'?!)
Our holiday cookie party was fueled by a pot luck! I love when everyone brings a favorite dish and knowing that my super healthy yoga girls were coming over you know that everything was bound to be good! And, of course, the girls didn't disappoint!
We started out with a salad of mixed greens, pine nuts, cranberries, and gorgonzola cheese crumbles with a light balsamic dressing.
The main meal was a plate full of vegetable chili, apple risotto with onion, and some fabulous cornbread.
No girls night is complete without red wine, and with dinner we also added a glass of my
Spiced Pomegranate Martini
, which- to toot my own horn- is amazing!
However, my favorite part of the meal was dessert, it was a cookie party after all! As our sugar cookie dough was cooling, we decorated gingerbread houses, which was SO much fun, and one of the girls had a (more than slight) malfunction- the houses were as delicious as they were messy!
We rounded off the night with decorating sugar cookies to take home to our loved ones. All in all it was a very fun, very sugar filled, day!
What was your favorite thing you had to eat this weekend? Let me know in the comments below!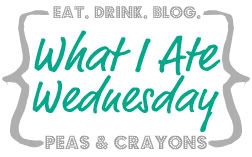 Remember to follow me on
,
Follow @ChickadeeSays
and like ChickadeeSays on Facebook to get updates, sneak peeks, and lots more pictures of Tinkerbelle!