Hello Darlings,
I call myself a 'flexitarian' that means that I eat a mostly plant-based diet but throw meat into the mix just not every day. I thought it might be fun to share a typical no-fuss Meatless Monday to show that having a veggie day isn't difficult, even if you are feeling lazy (I most definitely was!) P.S. Sorry for the picture quality-they are mostly iPhone shots!
I started out my day with my usual hot water/lemon/apple cider vinegar drink followed by a cup of tea. And then, to completely counteract any warmth I built up after two hot drinks, I had a smoothie made of organic frozen blueberries, blackberries, and raspberries, Silk Almond Milk, Greek yogurt, and fresh baby spinach leaves.
For lunch I had the leftovers from my
Shaved Asparagus Salad
recipe I posted on Monday. (Total side note: asparagus is one of those words that for some reason I can
never
spell correctly on the first try. Frustrating.) The salad is just as good the next day- I love raw veggies!
For dinner I was in a hurry so I popped some sprouted Ezekiel bread and sharp cheddar in the toaster oven. I let that melt, topped it with fresh baby spinach and homemade pickles- you can't go wrong with homemade pickles, to make a "I swear I'm a grownup" sandwich. Add a couple of clementines on the side and you have a quick and delicious meal on the go.
I am a member of
Klout
which is essentially a website that measures how influential you are on social media. When you get a high enough score (aka you live on the internet like a blogger does!) you can qualify for 'perks' which is free stuff sent your way. This time around I got a pair of tickets to a pre-screening of the Grudge Match movie, which, truth be told, looked ridiculous but ended up being quite silly. And you can't go to a movie theater without eating a ginormous bag of popcorn!
When I came back from the movie, before I settled into bed I continued to pick at my ever-so-delicious Ikea gingerbread house that I made during
last week's WIAW
. Not a bad way to end the night!
What was on your menu this week? Did you happen to eat like schoolchildren might like I did?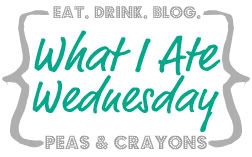 Remember to follow me on
,
Follow @ChickadeeSays
and like ChickadeeSays on Facebook to get updates, sneak peeks, and lots more pictures of Tinkerbelle!