Hello Darlings!
This past weekend I got certified to teach yoga to prenatal mothers, which I am so excited about- I have always been passionate about the early stages of life! This weekend was step one in a full certification of 95 hours of additional training which will happen throughout the year. So add that to the baby and me training, and the additional kids yoga trainings and I have my hands full! Because trainings involve so much movement and asana I tend to eat rather lightly as the training is going on so I don't feel overfull or heavy. I thought it would be fun to share what I brought in my silly little lunch bag for one of the training days! P.S. please excuse the iPhone photos- it might have been a bit weird to lug a DSLR to training!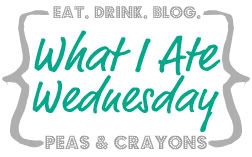 For breakfast I had a rather ginormous fruit salad (apparently when I was chopping up the fruit my eyes were a bit bigger than my stomach), a cup of cottage cheese smothered in cinnamon, and a to-go canister of hibiscus tea!
For lunch we popped over to a tea bar and I ordered a chai latte with almond milk. For food I had leftover fruit salad (which ended up lasting me through dinner!) a Quinoa and Kale Detox Salad (look for the recipe to be posted tomorrow!) and chicken sautéed in herbs and coconut oil.
During trainings we go from 8am to 5pm and sometimes beyond, so snacks are key to keeping energy levels high! When I'm hungry my thoughts tend to wander- missing out on great information. So I kept a stash of almonds and a Kind bar- Pomegranate Blueberry Pistachio is fantastic- so munch on when I started to feel hungry.
For dinner I was exhausted. I didn't get home until around 6 and had to be out the door at the crack of dawn the next day, so I had more of my detox salad (I had made a huge batch) fruit salad, and a few chocolate chip cookies! Then I promptly passed out!
What do snacks do you take when you know you're in for a long day? I would love to hear then- I'm always looking for something new to munch on!
Remember to follow me on
,
Follow @ChickadeeSays
and like ChickadeeSays on Facebook to get updates, sneak peeks, and lots more pictures of Tinkerbelle!