Hello Darlings!
This post turned out entirely different that I had expected. I thought that it would be full of beer, burgers, and game time snack foods (like my
Twice Baked Fingerling Potatoes)
. However, the cheat day I had envisioned didn't come to fruition, which my waistline appreciates. I was getting certified in restorative yoga all weekend, and the times got changed which meant the training ran over a huge chunk of the game. By the time I was out and made my way over to a friend's party, the Broncos were losing by an absurd number of points. So I stayed to watch the Seahawks win and promptly went home to bed.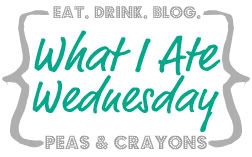 However, being the good little blogger I am I did happen to take pictures of my meals during the training so I thought I'd share those instead! Sorry for the iPhone quality snaps!
Before a day of training when I know I wont be practicing right away I like to eat quite a hearty breakfast. Eight hours straight of practicing and absorbing content requires quite a bit of energy! I love throwing together an easy egg scramble with cheese, almond milk, and spinach. A handful of berries on the side and a piping hot cup of tea round out the meal.
Apparently I was in fruity mood on Saturday! I paired pomegranate arils left over from my
Pomegranate Balsamic Roasted Brussels Sprouts
and a container of berries with homemade chicken salad and fresh bread from Whole Foods.
The yoga girls and I went out to dinner at a place called Mercury Café in downtown Denver. I had the enchiladas filled with bison, which were actually rather disappointed. The Merc is a super hyped up alternative, local, and sustainable restaurant and venue and I didn't think it lived up to the many positive reviews I've heard. Hopefully it was just an off night!
I had my amazing
Salted-Chocolate Dipped Blood Oranges
for dessert!
To settle a bit before bed I had a mug of Celestial Seasonings Sleepytime Decaf Green Tea that I received free of charge in an Influenster VoxBox. The Lemon Jasmine was delicious and incredibly soothing!
I can't wait to see what everyone else had to munch on during the Superbowl weekend! Let me know what your favorite tailgate food was in the comments below!